Regulator Review: HOG (Highly Optimized Gear) D1 Coldwater 1st with Adjustable 2nd
In 2007, a new line of equipment was introduced to the SCUBA world. Known as HOG along with its recreational sibling, Edge, this line was designed to give the tech diver and the recreational diver another choice in the world of scuba equipment, an opportunity to buy high quality, no nonsense gear at a reasonable price. The line was not designed to take over the entire dive market, but it is making steady in-roads to many areas. Founded by Chris Richardson of Georgia, this is their goal is in their own words:
"We have a single minded purpose, to offer excellent quality equipment, superlative service and affordable prices."
This they have done. They continue to add to the product line and the same theme is carried over with every new item. I became a fan and user of HOG equipment in 2009 when they introduced the D1 regulator. This reg was introduced to the dive community at an unheard of price for a regulator of this quality with the features it has. At select retailers, it was offered at the incredible price of $150 US for both stages! I bought two of each stage.
Shown above, these units came without hoses. Why? Very simple – they were sold with the idea that the diver knew best which hose he or she needed. Tech divers have set ways in which they configure their gear and many times it is not with hose lengths that are the same as what usually comes from the manufacturer. They may indeed want a standard length recreational primary hose of 32- 36 inches (1 meter) if it is going to be used for single tank diving, but more likely it will be a five foot or seven foot hose (2 meters). If it is a longer hose, an octo that is bungeed under the chin is used. In that case, as opposed to a 40 inch (1.2 meter) hose that would be donated to the divers buddy, a 22 inch (approximately 600 centimeter) hose is used, as the primary would be donated in an out of air situation. The five foot or seven foot (2 meter) hose also allows the divers to exit tight spaces such as a shipwreck or cave single file, where side by side swimming is not possible. In addition, technical divers consider the Buoyancy Compensator they are using to determine the length of the LP inflator hose. It could be as short as 12 inches (approximately 325 centimeters) or as long as 18 inches (approximately 475 centimeters) depending on the BC which is most often a Backplate and Wing type. As for the HP hose, most tech divers use only an SPG attached to the hose. As such, there is no console with a computer or compass, so these are worn on the wrist. Instead of the 32 or 36 inch (1 meter) hose found on most recreational setups then, the diver typically uses a 24 inch (approximately 625 centimeter) length hose.
So what HOG/Edge did in order to keep costs down and not have extra hoses lying around is, they left it up to the diver to decide what hoses are needed. I bought my regulators to use on my double cylinders. As such, I already had the hoses needed and so my total outlay was $308 US for both regulators! The price has since gone up but there are still deals to be had. One dealer offers the doubles set up for $585 US including an SPG. Try to buy one top end regulator from one of the major brands at that price!
The HOG regulators are made for the diver who wants a solid performer with good looks and a solid feel. They are rugged, big, and very cool looking. The picture above of the first stage is properly exposed. The finish is"black chrome" that just looks great and stays that way. The finish is highly resistant to scratches and corrosion. The stage is available with a 5th LP port on the bottom to aid in hose routing — I highly recommend this option! The D1 first stage comes in DIN but an adapter for DIN to Yoke could be used. In places where DIN connections are common, such as in Europe, this eliminates the need to convert the reg over to the DIN fitting.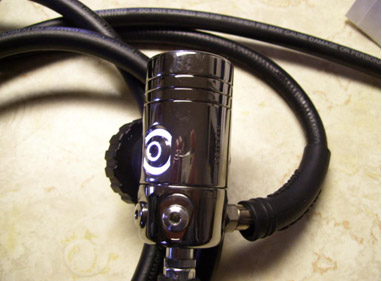 Here is one of my first stages with the 5th LP port used for the primary second stage. As you can see, the finish is beautiful and highly reflective! The second stage is also very well finished and oozes class and character; mine is shown below. As you can see, it has been used! The photo on the left shows the adjustment knob and the lever (red) that deflects air around the inside of the chamber to reduce the chance of free flow on the surface. I love this feature. It allows me to tune the reg to a minimal breathing effort and yet not worry about bumping the purge button on the surface or underwater, which as we divers all know, can start a free flow that wastes air and elicits laughter from our buddies!
This feature is also why I have two of these dive regulators. For divers who do technical dives it is important to have a bungeed octo that is just as good as the primary. We do not want a lower quality unit to be the one we have to go to in an emergency. The price of the HOG regulators means that we do not have to sacrifice performance in order to save money. Of course, if saving money is a priority, it is probably not a good idea to get into technical diving in the first place, because once you start doubling everything you would carry on a non-technical single tank dive it adds up very fast. HOG knows this as they themselves are technical divers and take this into consideration in product development and pricing. The types of dives these regulators are designed for mean that cutting corners in quality to save money can be a very bad, if not fatal, decision. With HOG, that sacrifice is unnecessary. We can indeed have our cake and eat it too!
I have removed the face plate for a very important reason: to show that it can be done. And no special tools are needed.  It is imperative for me to be able to do this with my second stages, for if a problem arises underwater I want to be able to do this even with heavy gloves on. There have been times when a piece of debris got caught in the second stage — I once saw a reg with a twig in it! Being able to take the second stage apart at depth can be a real plus when it is a simple fix and you do not want to or cannot surface to address it. The photo below shows the top view of the second stage with the cover removed.
As you can see, the same attention to detail is used on the inside of the reg. The demand lever is robust yet light and moves easily. The horizontal red bar is the deflector mechanism. The adjustment knob is purposely made large, making it easy to manipulate even with dry gloves or mitts. Everything about this unit is made with function and reliability in mind. There are no wasted spaces or extras that could end up being failure points. The reg shown is the one that is located on the right post of my dual tanks, hence the bolt snap tied near the second stage.
The regulator is environmentally sealed, meaning no water or contaminants can enter the first stage when it is on the tank and pressurized. The unit is also rated for cold water. This was an important feature for me as I dive in water as cold as 38 degrees F; I will be taking these regulators under the ice in 2011 when I assist with an ice diving class. The other feature that was very important to me was that the manufacturer allows sales of the service kits to divers. That's correct – buy this reg and if you know how, you can get the kit to service it yourself. No hassles, no arguments!
It is highly recommended that you take a service course but the fact is that if you have serviced a regulator before, you can service these. Just take your time and remember how everything came apart! Another option is to buy the kit, take it and the regulator to any competent technician, and have them do it. One more option is to simply send the regulator to the dealer you bought it from and allow them to do it. The dealers that currently carry the line of gear all have experienced techs to service them. Finally, you can always send the reg to HOG to let them service it. Whichever option you choose, it is important to have the reg serviced when it is needed.
As to how they perform, that is what you really want to know isn't it? The short answer is they work great! I, as an instructor, have had the opportunity to dive dozens of different regulators, from inexpensive basic piston regulators to what would be considered very high end units (titanium bodies, balanced, over balanced, etc.). The HOG D1 cold with HOG second stage breathes as good as or better than regulators costing literally two or three times as much. I have had them in water from 38 degrees to 85 degrees and they work with no extra effort in breathing. As a result, these regulators are now my favorite. I own eight other regulators from Sherwood, Oceanic, ScubaPro, and Aqualung – all of these will eventually be replaced with HOG or Edge regulators. The fact that I can service them myself, they breathe excellent, look good, and are utterly reliable makes that an easy decision. There is any number of choices one could make when selecting a new regulator and for the most part, all of them will work to one degree or another, but today's divers want value for their money. They don't want to waste hard earned cash on something they may have to replace or will not be happy with a year or two from now. The regulators from HOG will last the diver many years. They will also allow you to take some of that hard earned money and spend it on actual diving! In this writer's opinion, the HOG D1 Cold 1st stage coupled with the adjustable HOG second is the best regulator for the money on the market today!